by ikansadinmknorang....duck and cover...!!!!
the Union of Kampung Segari Republics of Ishketambatu...dang..!!!!!
Ishketambatu yesterday called for independence and declared war against Malaysian Federation after 3 hours of rocket and artillery barrage along the border.
The Union of Kampung Segari Republics of Ishketambatu...formerly know as the Kampung Batu Dua Suku Segari demands for autonomous governance for their rukun tetangga few months back after brickering for who should be the mantrey besar and parlimen bawah pokok incidents...
this has escalated to breaking off threats from the republic dear leader Dato` Samsudin Tongkok who repeatedly said that the state will break of from the federation and declare independence for themselves...
the Ishketambatu 500th Light Armour Div...Toyolta Mk.1
The republics forces were formed mainly from republican loyalist and paramilitary personnel and had its own mechanized infantry, light calvary and armoured divisions...7 artillery batteries and 12 SAM batteries...no air force or naval forces were established till this date but there are a sporadic number of militia reported by MAF Pandura units...most of them lightly armed with AK-47 and RPG....there are also reports that these guys were Malaysian et all..but mercenaries from many parts of African countries...most of them from Liberia and Swaziland...whom at first were workers in the ladang kelapa sawit...
the Ishketambatu 1st rocket battery corps firing rocket barrage after they capture Lumut Port
At 0401H....Ishketambola launches a continous rocket and artillery barrage against strategic locations around Lumut..causing severe damage to Jambatan Permysury Bainun...the Janamanjung Pawa Plant...the Lumut Central Shield Generator Complex...and the Ipoh-Bote-Lumut Autostrada Highway...
the surprise attack had cut off the Seri Manjung populace from any contact from the Federations...which had left the RMN special naval warfare units...a police force and rukun tetangga taman2 perumahan Fasa 1D Manjung Lama to Fasa 3A Manjung Baru to fend for themselves....
0700H...3 hours after the artillery attacks...the Ishketambatu forces with all their mens and equipments marched towards Kampung Aceh and Sitiawan...causing terror and havoc to the local populace....both township were taken over by Ishketambatu at 0755H...the battle lines were drawn at Tesco Sitiawan where police contigent take hold at the shopping mall with help from the rukun tetangga and Jabatan Pertahanan Awam to keep the insurgent from marching further towards Lumut...
Ishketambatu mechanized infantry...entering Kampung Aceh...Ishketambatu people looks like african coz these guys were once workers in palm oil plantation...damn u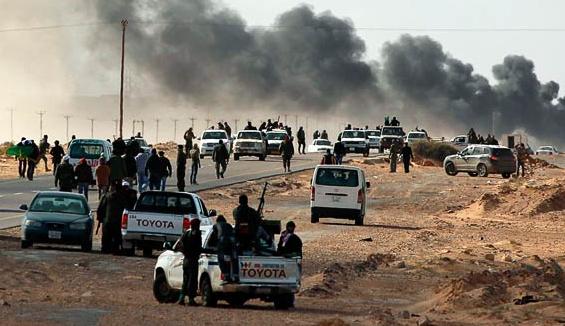 Ishketambatu combined armour and mechanized division entering Sitiawan...fighting occurs between local police force and the militia...the police retreat further south to Tesco since they were outnumbered and the town was lost...
defensive lines were set up among the shop lots and along the main Lumut-Sitiawan central roads....
to be continued :
next - MAF strikes back...!!!