by ikansadinmknorang...some say he drink petrol and turbocharger for buka puasa...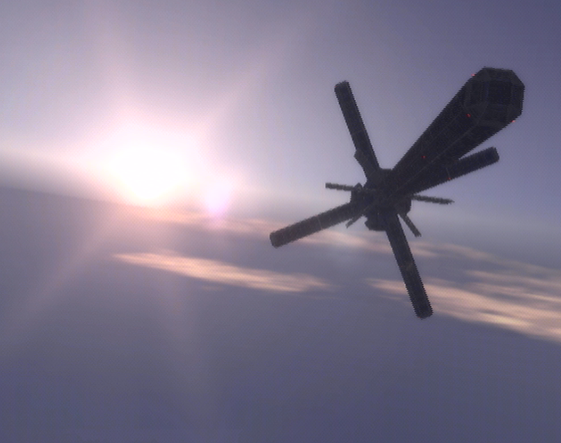 holy fish...can we shoot stupit politicians with this...sure pecah kepala punya..
Kuvala Lumpvur : A massive airborne platform was sighted by a number of commercial flights yesterday hovering within the borders of Malaysia and international airspace. Initial report came from flight MH003 bound for London when the pilot said he saw a massive platform with rotating pillars flying at a very slow speed at 35 000 feet over Selat Melaka.
The same unidentified object were also reported by Garuda Indonesia, Air India, Aeroflot and Cathay Pacific flights.
"It seems that the object does not move...we had it in our radar screen at 30Nm and we could see it within the clouds close to air traffic routes. We reported to traffic controller and they said they had no idea about it." said Jala Mengkarau Budiwono, Garuda Indonesia co pilot bound for Medan.
The unidentified object were then reported to the Malaysian Armed Forces for investigation and the happily release a press report that it just another experimental weapon platfrom for the army.
"Behold the
STRATEGIC AIRBORNE LINEAR GUN
....!!!!" said MAF PR officer in his press statement.
No spec were given but according to MAF it is
basically a gun that flies with massive electromagnetic rail gun barrel that sends projectiles at a speed of light capable of destroying a moon and shooting down asteroids for fun.
"
If it could make a large crater on the moon or even Mars...then it is effective as a weapon against anything on planet earth.Simple as that.
We already have weapon that can destroy alien civilization by shooting at their sun or planet but we don`t have any weapons to shoot at the moon. And now with SALIGUN we definitely can shoot everything in space.By the way...we will try to make a live telecast for coming Hari Raya with the help of RTM where we are planning to shoot at Planet Pluto with SALIGUN. Abby Abadey and Dato` Siti Norhaleeza will be our host.It will be fun..fun..fun" said the PR again.
Citizen who interested can come to Jalan Padang Tembak for live firing exercise like never before.Live telecast will be aired on malam Raya at TV1.
-pernamak-